Theatre Victoria School of Performing Arts
Junior Theatre Company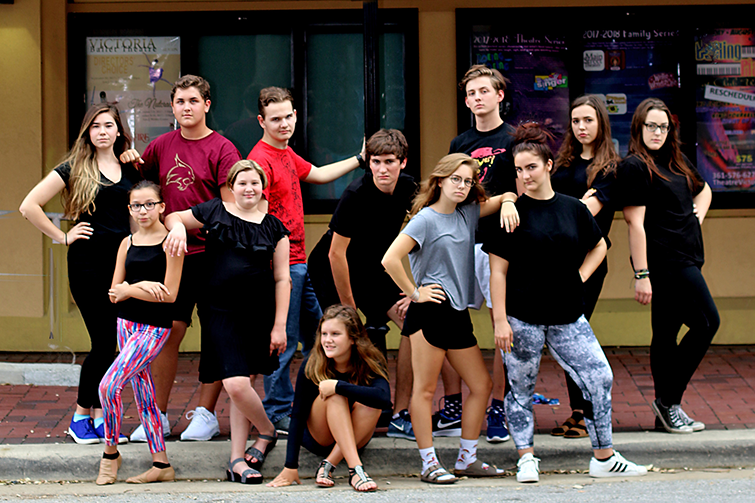 Junior Company members 2017-2018:

Back row - Sarah Adams, Sam Howell, Josh Arent, Shane Darilek, Calder Meis, Taylor Orsak, Kinley Pletzer
Front Row - Emily Martinez, Kaylen Smith, Sarah Kate Jentsch, Grayson Maples, Angelina Vincent
The Company is made up of 6th-12th grade students from the Crossroads area who audition in August of 2016. The company is under the direction of Michael Teer, Acting Director; MaryLynn McMichaels, Vocal Director; and Claire Pagel, Dance Director.
The Junior Company is designed to be performance-driven, furthering studies from audition to rehearsal to performance - along with master classes in singing, acting, and dance. Study begins in the fall 2017 and finishes its season in the spring of 2018.
This audition-only company is open to kids from 6th to 12th grades throughout the Coastal Bend. To audition, performers must:
Have participated in Theatre Victoria's productions, Fall or Spring Academy, or T3 Camp in the 2016-2017 season. If not, or you are new to our area, you must show us a resume of past theatrical experience.
Fill out application form and return the form to the theatre office with registration fee.
At the box office, you will select an audition time (remember this is an audition-only company). Auditions are on Saturday, August 19, 2017 starting at 9:30am.
Tuition for the Company is $255.00 plus a registration fee of $35.00. Tuition can be paid in full or paid monthly. The Monthly fee is $30.00 for 9 months.
Attend and participate the Junior Company auditions (did we say August 20, 2016?)

Classes meet on Tuesdays from 5:00pm to 7:00pm and on the 1st Sunday of each month (excluding September and January) from 3:00pm to 6pm. The Company is limited to 20 members. Fall classes begin the first Tuesday of September..
All company members are required to attend the Company Auditions. Auditions for the company will be held August 20, 2016 at the Leo J. Welder Center of the Performing Arts in downtown Victoria.

Auditions
Each potential company member should prepare a 1 min. monologue and 32 bars from a musical number. Both should be memorized. Please bring sheet music of the song in the key you wish to sing or the track of the song; CD player with aux cord and accompaniment will be provided. No a cappella. Monologues you may print out to use at the audition are provided here. You will also be asked to participate in a small dance combo.
Junior Company Guidelines:
You and a parent/guardian will sign the Student Code of Conduct
Attend all classes. Attendance is important and tardiness is not allowed. After 5 missed classes/ tardy's student must attend conference with instructor and parent
Come prepared to all classes. This will include proper dress and footwear
Show positive attitude to instructors and fellow actors. Any behavior problems will not be tolerated Please see Jr Company contract for procedures and reprimands
Complete 20 Service Hours. Service hours can be obtained by ushering Theatre Victoria productions, helping with production Work Days, or with a theater event through your school or another community theater.
Email Michael Teer or call at 361-576-6277 x3.
Shows and dates are subject to changes or cancellation.