Support Us
Ticket Sales and season subscriptions are critical sources of revenue, but they do not cover all the costs we incur to produce high quality theater and arts programs, provide educational opportunities for young people, and...keep the lights on. We depend on the ongoing support of generous donors - individuals, corporations, foundations, and governmental entities.
Please consider donating to Theatre Victoria today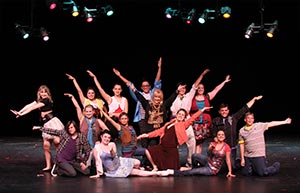 All donor levels receive acknowledgement in a season's show programs, receive Theatre Victoria brochures and mailings.
Donor Levels
Executive Producer:
$10,000 or more
Producer:
$5,000 - $9,999
Associate Producer:
$3,000 - $4,999
Director:
$1,000 - $2,999
Designer:
$500 - $999
Headliner:
$250 - $499
Chorus:
$100 - $249
Spotlighter:
$50 - $99
Call the Theatre offices at 361-576-6277 or
Mail a check payable to Theatre Victoria and send to:
Theatre Victoria
214 N. Main Street
Victoria, TX 77901